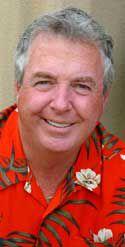 Nov. 11, 2013 - The Coastal Georgia Botanical Gardens, Savannah's premier destination for horticulture, education and gardening practices, announced today that Norman Winter has been hired as the new director of University of Georgia's Coastal Georgia Botanical Gardens at the historic bamboo farm. The farm is located at 2 Canebrake Road in Savannah.
Winter has deep experience in the world of horticulture. He previously served as vice president for advancement at Brewton-Parker College in Mount Vernon, GA, and most recently as the executive director of the Columbus Botanical Garden in Columbus, GA.
He also served for more than 15 years as a horticulture specialist with the Mississippi State University Extension Service where he was the coordinator for the Mississippi Medallion Award program, promoting outstanding plants for the state. His award winning Southern Gardening television news segment was seen weekly, not only across the state of Mississippi, but nationally on RFD-TV. He is currently a syndicated columnist and sought after garden lecturer, with columns published nationwide.
"I'm ecstatic to have the opportunity to be a part of a garden so steeped in history and one that sits on the precipice of its development into a world class garden," said Winter.
"The Coastal Georgia Botanical Gardens at the Historic Bamboo Farm was launched during the greatest plant exploration period in our country's history," said Winter. "A leisurely stroll through our gardens today will give glimpses into our rich past as monolithic sized trees, shrubs and bamboo standout not only with their beauty, but as if they want to tell a story."
One such plant is the Lord's holly known botanically as Ilex rotunda, explains Winter. "Unless you've been to the Coastal Georgia Botanical Gardens, you most likely have never seen one."
The Lord's holly is large enough to climb completely inside of or perfect for building a tree house. Today its pendulous branches are loaded with thousands upon thousands of bright red berries making it one of the most picturesque trees in the garden. A similar holly is also famous in Hiroshima, Japan, and adorned with a plaque commemorating its survival of the atomic blast.
Winter also earned a bachelor's degree from Hardin-Simmons University in Abilene, Texas, and a master's degree from Texas A&M University in College Station
About Coastal Georgia Botanical Gardens
The Coastal Georgia Botanical Gardens is located at the Historic Bamboo Farm at 2 Canebrake Rd., and is free and open to the public Monday through Friday from 8- 5 p.m., Saturday 10-5 p.m. and Sunday 12-5 p.m.
Visitors are welcome to enjoy the December Nights and Holiday Lights celebration from Nov. 29 - Dec. 24, Thursday through Sunday nights only. Admission is $5 per person.
A unit of the University of Georgia College of Agricultural and Environmental Sciences, the Coastal Georgia Botanical Gardens includes 51 acres of historic plants, ornamental gardens, lakes, farm buildings and pick-your-own berry fields. The farm establishes and maintains a series of rotating display gardens which serve as an outdoor classroom where visitors can learn about fruits, vegetables and ornamental plants recommended for the coastal region and cultural practices for successfully growing these plants. Featured gardens include a Camellia Trail, Water Garden, Bamboo Collection, Palmetto and Palm Collection, Rose Garden, Cottage Garden, Orchid Greenhouse and much more.